E-awards
The E-AWARDS reward the best companies, strategies, and managers in the e-commerce and digital marketing sector. These awards are given annually by CloserStill Media, a multinational company of which the E-SHOW fair is part.
The E-AWARDS publicly recognize the innovations developed by the main companies in our country, as well as their excellence, professionalism, research, and development, to improve the shopping experience of customers and browsers, thus becoming benchmarks of success for the e-commerce and online marketing sector.
Due to the company's organic and sustainable growth, and its big expansion throughout Europe, Habitium was chosen as one of the finalists in the category that rewards the internationalization of e-commerces.
CEPYME
The VII CEPYME 2020 Awards, organized by Santander bank together with giants such as Facebook, Visa, UPS, Randstad, among other top companies, selected Habitium as a finalist in 2 categories simultaneously: "Job Creation", and "Equality".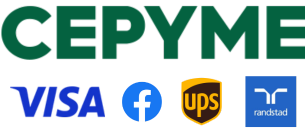 Regarding the creation of new jobs, the company doubled its payroll in a period of less than a calendar year, thus exceeding 50 employees, to increase productivity and generate sources of employment.
Equality in opportunities and conditions for both men and women is a policy that the company has naturalized since its beginnings. Gender, race, nationality, and culture, are totally irrelevant when it comes to hiring qualified personnel. When recruiting new employees, the company values the attitudes and aptitudes of each candidate.