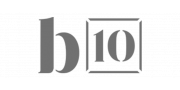 Baños10 is a company that manufactures bathroom products and has over 20 years of experience in this industry.
In the last few years, the company has built itself a reputation as the bestselling brand in Spain for shower trays, hydromassage items, and bathroom furniture.
With the fusion of traditional use of water and the latest emerging technologies, the brand has developed global solutions for bathrooms. Its products are carefully designed, constantly evolving, and are a perfect combination of both form and functionality.
Baños10 manufactures products in compliance with the current quality standards and provides warranties for all their products. Its product research and development has led to the creation of avant-garde products such as their Soft showers. The results from the Spanish organization AIDIMA's tests are a clear example of Baños10's brand quality.